The construction process - Light Gauge steel frame homes -
Why Light Gauge Steel Frame Construction ?
1. Long spans (  Big rooms )
2. Cost effectiveness  ( build time significantly reduced )
3. Air tightness ( economical to heat )
4. Better U Values ( better to heat )
5. Won't Rot, twist, crack or shrink
6. Environmental ( steel is 100% Recyclable  )
7. Weight to strength ratio ( it's stronger )
Cladding
Almost any finish can be added as cladding to your light gauge steel frame construction home.  Once the steel frame is built it is faced with a block finish and the natural stone is tied to the block wall as in the illustration below. If it was a plaster render it would be plastered directly onto the blcok wall, if it was brick a block wall is not requireda sthe bricks are sufficent to create an exterior finish.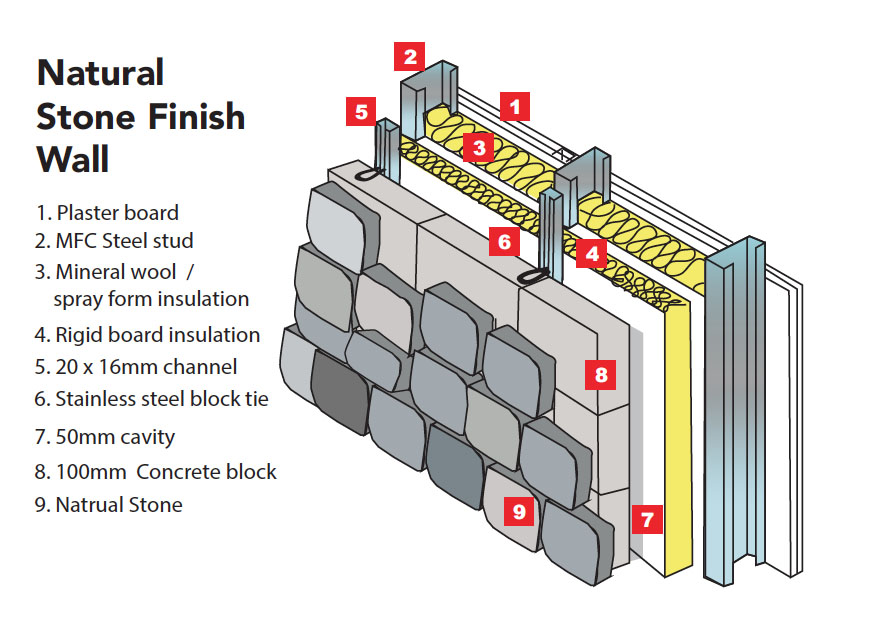 Large spans  = Large rooms
The photo below show the large spans that can be achieved using Light Gauge Steel Frame Construction.
Heat Recovery Systems
The blue flexi tubing below is the heating and cooling system.
Ventilating or ventilation (the V in HVAC) is the process of exchanging or replacing air in any space to provide high indoor air quality which involves temperature control, oxygen replenishment, and removal of moisture, odors, smoke, heat, dust, airborne bacteria, carbon dioxide, and other gases. Ventilation removes unpleasant smells and excessive moisture, introduces outside air, keeps interior building air circulating, and prevents stagnation of the interior air.
Ventilation includes both the exchange of air to the outside as well as circulation of air within the building. It is one of the most important factors for maintaining acceptable indoor air quality in buildings. It is easily installed and there are a variety of systems  to choose from.
NO Cold bridges ( Wall detail )
Steel frame construction creates an envelope because the insulation is completely wrapped around the inside and NOT in the frame. 
Attic space -create more rooms
Acoustics
Acoustic joist strips are a 5mm self adhesive acoustic strip designed to be placed on top of joists to reduce impact sound transmission on  floors..
Gallery  – click through to see more images