Traditional style housing built in Light Gauge Steel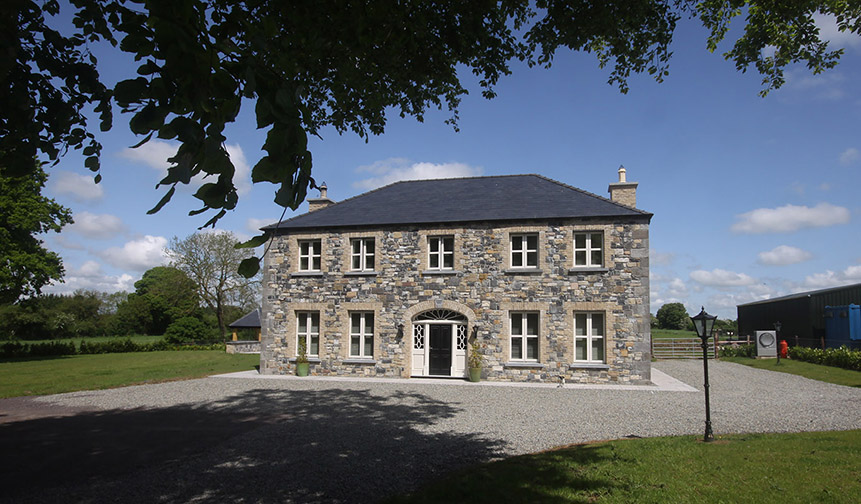 Traditional style period homes built with all the ADVANTAGES OF LIGHT GAUGE STEEL CONSTRUCTION
You've found the perfect site and now you want to build your dream traditional home. Whether it's Georgian, Victorian or Edwardian the advantages of building your dream period house using steel frame construction far outnumber traditional period methods
Light gauge steel structures have many of the advantages over traditional building methods. They are light, and allow quick building without heavy tools or equipment. Every component can easily be carried by hand – a house is like a carpentry job on a larger scale.  It is able to shape itself to any form, and can be clad and insulated with a wide range of materials.  It is easy to change or modify this construction at any point in its lifespan.
The house below is approx 3500 sq ft ( 330 sq metres ) and although it has the appearance of a 200 year old Victorian house is was actual fact built in 2014.  It's built of a metal frame construction with a traditional stone face finish.  Inside it has all the luxuries of a modern home and has the latest technology in underfloor heating. There is also large areas of open plan living throughout the house and the staircase pictured below traverses to a 2nd floor level to the attic space.
THIS HOUSE WAS BUILT AND FINISHED IN 5 MONTHS.
It is open to view at any time once an appointment is made through MFC
Metal frame construction based in Co Meath are considered the No 1 builder in Co Meath because we are:
·       Competence and experience
·       Technical Capability
·       Continuous Professional Development
·       Industry Code of Conduct
·       Tax Compliant
·       Health & Safety Statement
·       Insured
·       VAT Registered
·       Environmental Assurance
·       Quality Assurance
·       Knowledge of Building Regulations
·       Regulatory & Statutory Compliance
Safety Statement:
·       We are fully insured
·       We have full builders insurance with public liability
·       We are fully compliant with the Health & Safety at Work Act
·       Tax Clearance Certificates available on request
MFC Construction  are quality house and extension builders based in Co Meath. because of therehard work and dedication to their ever growing client base in the Meath and Louth Area.                                 
MFC builders based in Co Meath   take on construction projects ranging from small house renovations and medium sized house extensions to larger projects involving the building of brand new houses on green field sites. In every project as Home and House builders in Co Meath , they give careful consideration to ensure that the work meets client's expectations through ongoing dialogue With their extensive experience and portfolio of past projects  as the No 1 House and Home builders in Co Meath  they can introduce new clients to some of their past satisfied clients who have had similar work done. When requested, as the builder they can also bring the clients on site visits to see some of our completed work, be it a small renovation, extension, sunroom or large house first hand through Co Meath.