Ireland Light Gauge Steel Frame Construction in Ireland.
MFC Metal frame construction is Ireland's leading manufacturer and builder of  light gauge steel residential, apartments and multi units. Our manufacturing plant is based near Garlow Cross just off the M2 in Co Meath. We are fully certified and have an abundance of experience in light gauge steel manufacturing.
Our MFC system and offsite manufacturing methodology offers many benefits over traditional forms of construction, not least the fact that steel is recyclable – most steel manufactured today contains 66% recycled content. Steel recycling saves energy equivalent to electrically powering one fifth of Irish Households each year.
MFC Framing is precision engineered using the latest in software technology to provide excellent accuracy & incorporating a full design checking service. This process is fully flexible, allowing construction details to be amended at any stage prior to manufacturing.
Combining the benefits of modern cold-rolled steel framing with innovative design & precision engineered, MFC is the most steel-efficient framing system on the market. Our in house MFC rolling machines convert light gauge galvanized steel into cold-rolled steel frame components. Available in single sections or pre-assembled frames, can easily be manufactured to suit our customers individual needs.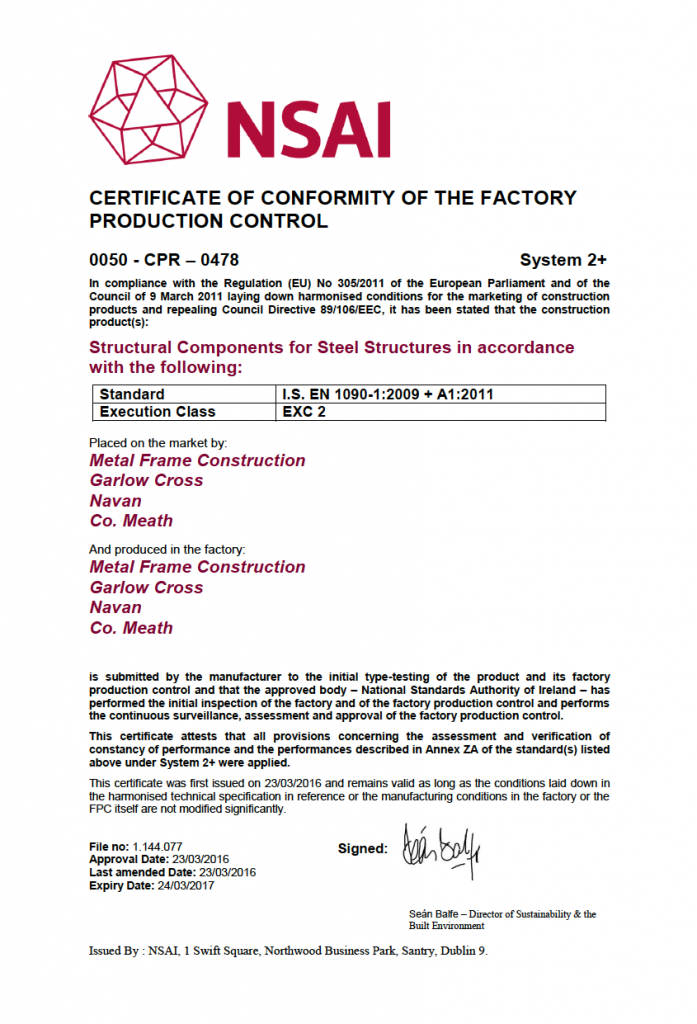 CONSTRUCTION BENEFITS
– Shorter build time
– Low-weight construction
– Reduced labour costs
– Superior quality
– 'Just on time' delivery
– Durability & strength
– Rapid dry envelope
– Fully recyclable, reusable & environmentally friendly
There are many cladding options when building with light gauge steel including:
brick veneer,
light weight concrete,
hebel (aerated concrete),
linear board,
tiled roofs and many other options.
Essentially any cladding used with traditional wood frame construction can be used with steel.  Also most traditional methods of cladding can be adapted to work with light gauge steel framing.